< Back

to Restaurants
Ruth's Chris Steakhouse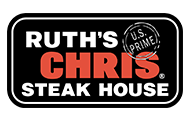 902 E UNIVERSITY DR
GRANGER, IN 46530
Cuisines: American, Burgers, Sandwiches, Seafood, Steak
---
| | | |
| --- | --- | --- |
| Monday | — | 04:00 - 08:15 |
| Tuesday | — | 04:00 - 08:15 |
| Wednesday | — | 04:00 - 08:15 |
| Thursday | — | 04:00 - 08:15 |
| Friday | 11:00 - 02:45 | 04:00 - 09:15 |
| Saturday | — | 03:00 - 09:15 |
| Sunday | — | 03:00 - 07:15 |
This restaurant is not available for delivery at your requested delivery time. Please sign in and set your delivery time to a future date/time that the restaurant is available.
The soonest possible delivery time for this restaurant is today at 12:30 PM.
APPETIZERS
BARBECUED SHRIMP APPETIZER


Large shrimp sauteed in reduced white wine, butter, garlic and spices.

$25.00
LOBSTER VOODOO


Succulent lobster, lightly fried, tossed in a spicy cream sauce and served with a tangy cucumber salad.

$29.00
MUSHROOMS STUFFED WITH CRABMEAT


Broiled, topped with Romano cheese.

$21.00
SEARED AHI TUNA


Complemented by a spirited sauce with hints of mustard and beer.

$22.00
SHRIMP COCKTAIL


Chilled jumbo shrimp, choice of New Orleans cocktail or creole remoulade sauce.

$22.00
SIZZLING BLUE CRAB CAKES


Two jumbo lump cakes, lemon butter.

$29.00
VEAL OSSO BUCO RAVIOLI


Saffron-infused pasta, baby spinach, white wine demi-glace.

$20.00
SALADS & SOUP
CAESAR SALAD


Fresh romaine hearts, Romano cheese, creamy Caesar dressing, shaved parmesan and fresh ground black pepper.

$12.00
HARVEST SALAD


Mixed greens, roasted corn, dried cherries, bacon, tomatoes, white balsamic vinaigrette, goat cheese, Cajun pecans and crispy onions.

$16.00
LETTUCE WEDGE


Bacon and bleu cheese on crisp greens.

$12.00
LOBSTER BISQUE


Creamy lobster bisque, in the New Orleans style.

$14.00
RUTH'S CHOPPED SALAD


Bacon, egg, red onion, mushrooms, green olives, hearts of palm, croutons, lemon basil dressing.

$14.00
STEAK HOUSE SALAD


Iceberg, baby arugula, baby lettuces, grape tomatoes, garlic croutons, red onions and choice of dressing.

$12.00
SIGNATURE STEAKS & CHOPS
BERKSHIRE PORK CHOP


16 oz double bone-in chop, marinated for full flavor and tenderness.

$49.00
CLASSIC FILET (11 OZ)


Tender corn-fed Midwestern beef.

$59.00
COWBOY RIBEYE


Bone-in 22 oz USDA Prime cut.

$76.00
LAMB CHOPS


Three extra thick marinated chops, with fresh mint.

$59.00
NEW YORK STRIP (12 OZ)


USDA Prime, full bodied, slightly firmer than a ribeye.

$52.00
PETITE FILET (8 OZ)


The same incredible cut as the classic, in an 8 oz filet.

$52.00
PETITE FILET (8 OZ) & SHRIMP


Petite filet with grilled, jumbo shrimp.

$64.00
PORTERHOUSE FOR TWO


40 oz USDA Prime, richness of a strip, tenderness of a filet.

$119.00
RIBEYE (16 OZ)


USDA Prime well marbled for peak flavor, deliciously juicy.

$65.00
T-BONE


Full flavored 24 oz USDA Prime cut.

$69.00
SPECIALTY CUTS
BONE-IN FILET


A tender 16 oz bone-in cut, at the peak of flavor.

$79.00
BONE-IN NEW YORK STRIP


USDA Prime, 19 oz bone-in cut, our founder's favorite.

$68.00
RBAR BURGER


Ruth's special grind on a brioche bun with Havarti cheese, lettuce, tomato and smoked onion aioli.

$21.00
TOMAHAWK RIBEYE


USDA Prime bone-in 40 oz, well-marbled for flavor.

$149.00
SEAFOOD & SPECIALTIES
ASIAN NOODLE SALAD


Ginger soy marinated filet, napa cabbage, iceberg, spinach & radicchio salad, cucumber, onions, carrots, red pepper, udon noodles & sesame vinaigrette with filet.

$39.00
BARBECUED SHRIMP ENTREE


Sauteed in garlic butter and bbq spices, over roasted garlic mash.

$38.00
CHILLED SHELLFISH SALAD


Shrimp & lump crabmeat tossed with vinaigrette dressing on a bed of mixed greens.

$30.00
KING SALMON FILLET


Chef's seasonal preparation.

$42.00
LOBSTER MAC & CHEESE


Tender lobster, three cheese blend, mild green-chiles.

$36.00
SIZZLING BLUE CRAB CAKES


Three jumbo lump crab cakes with sizzling lemon butter.

$43.00
STUFFED CHICKEN BREAST


Oven roasted double chicken breast, garlic herb cheese, lemon butter.

$39.00
POTATOES & SIGNATURE SIDES
ADD CHICKEN TO SALAD
$13.00
AU GRATIN POTATOES (SIDE)


With three cheese sauce.

$13.00
BAKED POTATO (SIDE)


One pound, fully loaded.

$13.00
CREAMED SPINACH (SIDE)


A Ruth's classic.

$13.00
CREMINI MUSHROOMS (SIDE)


Pan-roasted, fresh thyme.

$13.00
FIRE-ROASTED CORN (SIDE)


Hand-cut fresh from the cob, diced jalapeno.

$13.00
FRENCH FRIES (SIDE)


Traditional hand cut.

$13.00
GRILLED ASPARAGUS (SIDE)


Hollandaise sauce.

$13.00
HASHBROWNS (SIDE)


Served fully loaded, a must try!

$13.00
MASHED POTATOES (SIDE)


With a hint of roasted garlic.

$13.00
SHOESTRING FRIES (SIDE)
$13.00
STEAMED BROCCOLI (SIDE)


Simply steamed.

$13.00
SWEET POTATO CASSEROLE (SIDE)
$13.00
ENTREE COMPLEMENTS
AU POIVRE SAUCE COMPLIMENT


Brandy and pepper sauce.

$7.00
BLEU CHEESE CRUST COMPLEMENT


Bleu cheese, roasted garlic.

$7.00
GRILLED SHRIMP COMPLEMENT


Jumbo shrimp.

$24.00
OSCAR STYLE COMPLEMENT


Lump crabmeat, asparagus and bearnaise sauce.

$26.00
TRUFFLE CRUST COMPLIMENT


Truffle butter, parmesan, panko bread crumbs.

$9.00
DESSERTS
BERRIES & CREAM


Fresh seasonal berries with a rich vanilla cream.

$13.50
CARROT CAKE


Three towering layers of our own special recipe with thick, velvety cream cheese icing, drizzled with caramel sauce.

$13.50
CLASSIC CHEESECAKE


Fresh berries and mint.

$13.50
CRÈME BRULEE
$13.50
HAAGEN-DAZ ICE CREAM
$13.50
IVAN'S CHOCOLATE CAKE
$13.50
WHITE CHOCOLATE BREAD PUDDING


Scratch made.

$13.50
LUNCH MENU (FRIDAYS ONLY)
Ruth's is open for lunch on Fridays only. These items available 11am-2pm Fridays.
6 OZ FILET & SHRIMP (LUNCH ONLY)


Tender corn-fed Midwestern beef topped with large shrimp.

$51.00
ASIAN NOODLE SALAD (LUNCH ONLY)


Ginger soy marinated filet or ahi tuna, Napa cabbage, iceberg, spinach and radicchio salad, cucumber, onions, carrots, red pepper, udon noodles and sesame vinaigrette.

$25.00
BLACK & BLEU SALAD (LUNCH ONLY)


Chopped salad with onions, mushrooms, croutons, bleu cheese dressing, bleu cheese crumbles, Cajun pecans, bacon, peppers, crispy onion sand blackened tenderloin.

$36.00
LUNCH PRIX FIXE (LUNCH ONLY)


Choose a starter (steak house salad, Caesar salad or soup of the day). Choose an entrée (stuffed chicken breast, steak frites or seared ahi tuna salad). Includes a carrot cake cupcake with cream cheese icing.

$36.00
MIXED GRILL (LUNCH ONLY)


Three guest favorites: 4 oz filet, garlic herb cheese stuffed roasted chicken breast, homemade jumbo lump crab cake.

$49.00
PRIME FRENCH DIP (LUNCH ONLY)


Toasted French bread with au jus, creamy horseradish and Swiss cheese served with hand-cut French fries.

$32.00
SEARED AHI TUNA SALAD (LUNCH ONLY)


Fresh field greens, red onions, crunchy vegetables, slices of seared ahi tuna, honey-Thai sauce.

$28.00
STUFFED CHICKEN BREAST (LUNCH ONLY)


Half breast with garlic, cheddar and cream cheeses over asparagus and garlic mashed potatoes.

$28.00