< Back

to Restaurants
Ruth's Chris Steakhouse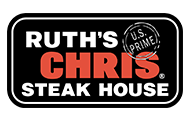 902 E UNIVERSITY DR
GRANGER, IN 46530
Cuisines: American, Burgers, Sandwiches, Seafood, Steak
---
| | | |
| --- | --- | --- |
| Monday | — | 04:00 - 08:15 |
| Tuesday | — | 04:00 - 08:15 |
| Wednesday | — | 04:00 - 08:15 |
| Thursday | — | 04:00 - 08:15 |
| Friday | — | 04:00 - 09:15 |
| Saturday | — | 04:00 - 09:15 |
| Sunday | — | 04:00 - 07:15 |
This restaurant is not available for delivery at your requested delivery time. Please sign in and set your delivery time to a future date/time that the restaurant is available.
The soonest possible delivery time for this restaurant is today at 4:45 PM.
APPETIZERS
BARBECUED SHRIMP APPETIZER


Large shrimp sauteed in reduced white wine, butter, garlic and spices.

$20.50
LOBSTER VOODOO


Succulent lobster, lightly fried, tossed in a spicy cream sauce and served with a tangy cucumber salad.

$22.50
SEARED AHI TUNA


Complemented by a spirited sauce with hints of mustard and beer.

$19.50
SHRIMP COCKTAIL


Chilled jumbo shrimp, choice of New Orleans cocktail or creole remoulade sauce.

$20.50
SIZZLING CRAB CAKES


Two jumbo lump cakes, lemon butter.

$23.00
VEAL OSSO BUCO RAVIOLI


Saffron pasta, baby spinach, white wine demi-glace.

$18.00
SALADS & SOUP
CAESAR SALAD


Fresh romaine hearts, Romano cheese, creamy Caesar dressing, shaved parmesan and fresh ground black pepper.

$11.00
HARVEST SALAD


mixed greens, roasted corn, dried cherries, bacon, tomatoes and white balsamic dressing

$11.00
LETTUCE WEDGE


Bacon and bleu cheese on crisp greens.

$11.00
LOBSTER BISQUE


Creamy lobster bisque, in the New Orleans style.

$12.50
RUTH'S CHOPPED SALAD


Bacon, egg, red onion, mushrooms, green olives, hearts of palm, croutons, lemon basil dressing.

$13.00
SOUP OF THE DAY
$12.50
STEAK HOUSE SALAD


Iceberg, baby arugula, baby lettuces, grape tomatoes, garlic croutons, red onions and choice of dressing.

$11.00
SIGNATURE STEAKS & CHOPS
BERKSHIRE PORK CHOP


16 oz double bone-in chop, marinated for full flavor and tenderness.

$39.50
CLASSIC FILET (11 OZ)


Tender corn-fed Midwestern beef.

$49.50
COWBOY RIBEYE


Bone-in 22 oz USDA Prime cut.

$59.00
LAMB CHOPS


Three extra thick marinated chops, with fresh mint.

$45.00
NEW YORK STRIP (12 OZ)


USDA Prime, full bodied, slightly firmer than a ribeye.

$46.00
NEW YORK STRIP (16 OZ)


USDA Prime, full bodied, slightly firmer than a ribeye.

$54.00
PETITE FILET (8 OZ)


The same incredible cut as the classic, in an 8 oz filet.

$44.00
PETITE FILET (8 OZ) & SHRIMP


Petite filet with grilled, jumbo shrimp.

$54.00
PORTERHOUSE FOR TWO


40 oz USDA Prime, richness of a strip, tenderness of a filet.

$98.00
RIBEYE (16 OZ)


USDA Prime well marbled for peak flavor, deliciously juicy.

$52.50
T-BONE


Full flavored 24 oz USDA Prime cut.

$58.00
SPECIALTY CUTS
BONE-IN FILET


A tender 16 oz bone-in cut, at the peak of flavor.

$64.00
BONE-IN NEW YORK STRIP


USDA Prime, 19 oz bone-in cut, our founder's favorite.

$65.00
TOMAHAWK RIBEYE


USDA Prime bone-in 40 oz, well-marbled for flavor.

$119.00
RUTH'S CLASSICS PRIX FIXE
Enjoy a prix fixe meal featuring one of chef's favorite recipes. Includes a starter, entree and a personal side.
RUTH'S CLASSICS PRIX FIXE


Your choice of starter (Steak House Salad, Caesar Salad, OR Lobster Bisque). Your choice of entree (Filet & Shrimp with 6 oz filet and two large shrimp, Filet Oscar with 6 oz filet, lump crab, asparagus and bearnaise sauce, OR Filet & Lobster with 6 oz filet, buttery cold water lobster tail). Your choice of individual side (Creamed Spinach, Garlic Mashed Potatoes, OR Steamed Broccoli). Upcharges apply for some selections. Serves one person.

$50.00
SEAFOOD & SPECIALTIES
BARBECUED SHRIMP ENTREE


Sauteed in garlic butter and bbq spices, over roasted garlic mash.

$31.00
JUMBO CRAB CAKES


Jumbo lump crab cakes with sizzling lemon butter.

$23.00
KING SALMON FILLET


Chef's seasonal preparation.

$34.00
LOBSTER MAC & CHEESE


Tender lobster, three cheese blend, mild green-chiles.

$24.00
SIZZLING CRAB CAKES ENTREE


Three jumbo lump crab cakes, sizzling lemon butter.

$33.00
STUFFED CHICKEN BREAST


Oven roasted double chicken breast, garlic herb cheese, lemon butter.

$32.00
BURGERS & SANDWICHES
FILET SLIDERS


Two filet sliders topped with Ruth's barbecue butter and crispy onion straws.

$16.00
RBAR BURGER


Ruth's special grind on a brioche bun with Havarti cheese, lettuce, tomato and smoked onion aioli.

$17.00
POTATOES & SIGNATURE SIDES
ADDING CHICKEN TO A MENU ITEM
$7.00
AU GRATIN POTATOES (SIDE)


With three cheese sauce.

$13.00
BAKED POTATO (SIDE)


One pound, fully loaded.

$10.50
CREAMED SPINACH (SIDE)


A Ruth's classic.

$11.00
CREMINI MUSHROOMS (SIDE)


Pan-roasted, fresh thyme.

$13.00
FRENCH FRIES (SIDE)


Traditional hand cut.

$11.00
GRILLED ASPARAGUS (SIDE)


Hollandaise sauce.

$13.00
HASHBROWNS (SIDE)


Served fully loaded, a must try!

$13.50
MASHED POTATOES (SIDE)


With a hint of roasted garlic.

$11.00
STEAMED BROCCOLI (SIDE)


Simply steamed.

$11.00
SWEET POTATO CASSEROLE (SIDE)
$11.00
ENTREE COMPLEMENTS
BLEU CHEESE CRUST COMPLEMENT


Bleu cheese, roasted garlic.

$5.00
GRILLED SHRIMP COMPLEMENT


Jumbo shrimp.

$19.50
LOBSTER TAIL COMPLEMENT


Sizzling with drawn butter.

$24.00
OSCAR STYLE COMPLEMENT


Lump crabmeat, asparagus and bearnaise sauce.

$18.00
DESSERTS
BERRIES & CREAM


Fresh seasonal berries with a rich vanilla cream.

$10.50
CARROT CAKE


Three towering layers of our own special recipe with thick, velvety cream cheese icing, drizzled with caramel sauce.

$13.50
CLASSIC CHEESECAKE


Fresh berries and mint.

$10.50
CRÈME BRULEE
$10.50
HAAGEN-DAZ ICE CREAM
$7.00
IVAN'S CHOCOLATE CAKE
$13.00
WHITE CHOCOLATE BREAD PUDDING


Scratch made.

$10.50