< Back

to Restaurants
Rocky River Tap & Table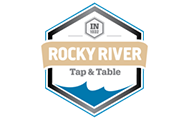 1032 E UNIVERSITY DRIVE
MISHAWAKA, IN 46545
Cuisines: American, Bar & Grill, BBQ, Burgers, Italian, Sandwiches, Steak
---
| | | |
| --- | --- | --- |
| Monday | — | 11:00 - 08:15 |
| Tuesday | — | 11:00 - 08:15 |
| Wednesday | — | 11:00 - 08:15 |
| Thursday | — | 11:00 - 08:15 |
| Friday | — | 11:00 - 09:15 |
| Saturday | — | 11:00 - 09:15 |
| Sunday | — | 03:00 - 08:15 |
Delivery pricing may vary from restaurant menu pricing. DineIn prides itself in having the lowest fees in the industry.
This restaurant is not available for delivery at your requested delivery time. Please sign in and set your delivery time to a future date/time that the restaurant is available.
The soonest possible delivery time for this restaurant is today at 3:45 PM.
SHAREABLES
BACON JAM BRIE


Toast points.

$15.79
BREAD BASKET


Naan, rosemary olive, ciabatta, shallot butter.

$5.29
BRUSSELS


Roasted with cranberries, panko bread crumbs, bacon, balsamic.

$8.39
LOADED FRIES


Beer cheese, BBQ, chili crema, green onions, bacon bits.

$8.39
LOADED POTATO BITES


Panko crusted loaded mashed potatoes, deep fried.

$9.49
ROASTED RED PEPPER HUMMUS


Naan, fresh veggies.

$9.49
ROASTED SPINACH & ARTICHOKE DIP


Naan, housemade chips.

$11.59
ROCKY NACHOS


Beer cheese, black beans, chili sour cream, BBQ pulled pork, duck or smoked chicken.

$14.69
SOUP X GREENS
Add chicken, steak, salmon, shrimp or tofu for an additional charge.
ASPARAGUS PROSCIOTTO SALAD


Local field greens, asparagus, prosciotto chips, cranberries, parmesan, toast points.

$10.49
BBQ CHICKEN SALAD


Romaine, spinach, corn, pickled onion, sunflower seeds, bleu cheese, white balsamic.

$15.79
CAESAR SALAD


Romaine, housemade croutons, house Caesar.

$8.39
GRILLED SALMON SALAD


Local field greens, mango, pineapple, red pepper, carrots, sunflower seeds, edamame, sweet chili vinaigrette.

$18.89
KITCHEN SINK SALAD


Romaine, bacon, red onion, edamame, cheddar, red pepper, ranch, broccoli, tomato, carrots, cucumbers, croutons.

$12.59
ROASTED PEAR SALAD


Baby spinach, white balsamic, walnuts, bleu cheese.

$8.39
ROCKY RIVER SALAD


Baby field greens, tomato, pickled onion, carrots, white balsamic.

$6.29
SHAVED BRUSSELS SALAD


Prosciutto, kale, craisins, apple, butternut squash, carrots, croutons, maple mustard dressing.

$10.49
SOUP OF THE DAY (BOWL)
$8.39
SOUP OF THE DAY (CUP)
$5.29
HANDHELDS X BURGERS
Served with house-cut fries or sweet potato fries.
BLACK & BLEU BURGER (LUNCH ONLY)


**LUNCH ITEM AVAILABLE ONLY BEFORE 4PM** Pickled red onion, bleu cheese crumbles, blackening spice.

$14.69
CHEESESTEAK (LUNCH ONLY)


**LUNCH ITEM AVAILABLE ONLY BEFORE 4PM** Thinly sliced steak, beer cheese, grilled onions, peppers, garlic aioli.

$18.89
CHICKEN & MUSHROOM SANDWICH


Garlic aioli, mushroom trio, fontina, caramelized onions.

$12.59
CHICKEN CLUB


Fontina, avocado smash, bacon, garlic aioli, lettuce, tomato.

$13.69
GRILLED CHICKEN WRAP (LUNCH ONLY)


**LUNCH ITEM AVAILABLE ONLY BEFORE 4PM** Pita, Caesar, romaine, tomato, parmesan.

$12.59
IMPOSSIBLE BURGER


Lettuce, tomato, pickled red onion, avocado smash.

$16.79
JALAPENO BURGER


Grilled jalapeno, guacamole, pico de gallo, sriracha mayo.

$14.69
ROCKY RIVER BURGER


Schaendorf Farms burger, bacon, cheddar, caramelized onion.

$15.79
SALMON BLT (LUNCH ONLY)


**LUNCH ITEM AVAILABLE ONLY BEFORE 4PM** Grilled salmon, bacon, lettuce, tomato, dill mustard.

$16.79
SHRIMP PO' BOY


**LUNCH ITEM AVAILABLE ONLY BEFORE 4PM** Chili rubbed shrimp, coleslaw, tomato, mango salsa, toasted hoagie.

$16.79
SMOKED CHICKEN SALAD SANDWICH (LUNCH ONLY)


**LUNCH ITEM AVAILABLE ONLY BEFORE 4PM** Field greens, tomatoes, served open faced on grilled toast.

$11.59
WAGYU BURGER


Bacon jam, garlic aioli, house pickles, fontina.

$17.89
LUNCH COMBOS
**AVALABLE DURING LUNCH HOURS ONLY**
LUNCH COMBO CHOOSE 2


Choose two: Soup of the Day Bowl, half Chicken Salad Sandwich, half BLT, half Grilled Ham & Cheese, Rocky River Salad, Greek Salad, Baby Spinach Salad, Caesar Salad.

$12.59
ENTREES
BEEF SHORT RIBS


Over cheddar grits with roasted veggies.

$28.39
BLACKENED SALMON


Black beans, rice, roasted veggies, pico de gallo.

$26.29
CHICKEN & GRITS


Cheddar grits, tomato, caramelized onions, spinach, ham, beer cheese.

$24.19
CHICKEN & NOODLES


Amish noodles over mashed potatoes, creamy pot pie filling, grilled chicken.

$18.89
CHICKEN POT PIE


Creamy pot pie filling, flaky crust (Just like Mom's!)

$15.79
CHILI RUBBED STEAK


Steak strips over fried rice, black bean puree, mango relish, guacamole, roasted veggies.

$25.19
GRILLED SCALLOPS


**DINNER ITEM AVAILABLE ONLY AFTER 4PM** Over forbidden rice, sautéed vegetables, mango relish.

$28.39
NEW YORK STRIP


Hand-cut Angus beef simply grilled, over mashed potatoes, roasted veggies.

$38.89
PLANK SALMON


Roasted veggies, mashed potatoes, dill mustard.

$26.29
PULLED PORK MAC & CHEESE


BBQ pulled pork, beer cheese.

$20.99
SHRIMP & GRITS


Cheddar grits, tomato chorizo sauce.

$26.29
STIR-FRY


Rice, stir-fry veggies, sweet chili sauce. Choose chicken, steak, shrimp or tofu.

$17.89
STUFFED CHICKEN


Grilled breast stuffed with spinach and cheese over mashed potatoes, roasted veggies, prosciutto chips.

$23.19
THE BOWL


Basmati rice, black beans, roasted corn, spinach, pico de gallo, guacamole. Add chicken, shrimp, tofu or steak for an additional charge.

$13.69
ZOODLES (DINNER ONLY)


**DINNER ITEM AVAILABLE ONLY AFTER 4PM** Sweet chili sauce, snow pea medley, white wine. Add chicken, shrimp, tofu or steak for an additional charge.

$13.69
BBQ
BBQ COMBO (CHOOSE 2)


Choices: Carolina pulled chicken, bourbon barbecued pork, xxx braised ribs, coleslaw, potato salad, house cut fries.

$23.19
BBQ COMBO (CHOOSE 3)


Choices: Carolina pulled chicken, bourbon barbecued pork, xxx braised ribs, coleslaw, house cut fries.

$31.49
CAROLINA PULLED CHICKEN SANDWICH


Shredded cheddar, coleslaw, house cut fries or sweet potato fries.

$12.59
PULLED PORK MAC & CHEESE


BBQ pulled pork, bacon, creamy beer cheese sauce (YAAS!!!)

$20.99
PULLED PORK SANDWICH


Bourbon bbq sauce, house cut fries or sweet potato fries.

$12.59
XXX RIBS (FULL)


House cut fries, coleslaw.

$29.39
XXX RIBS (HALF)


House cut fries, coleslaw.

$20.99
DESSERTS
| | |
| --- | --- |
| FLOURLESS CHOCOLATE CAKE | $8.39 |
| KEY LIME PIE | $8.39 |
| SALTED CARAMEL BROWNIE | $8.39 |
| VANILLA BEAN CHEESECAKE WITH BLUEBERRY COMPOTE | $8.39 |
SIDES
| | |
| --- | --- |
| SWEET POTATO FRIES (SIDE) | $4.19 |