< Back

to Restaurants
Jesus Latin Grill (Catering Only)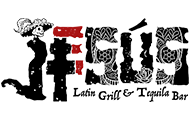 122 N HILL ST
MISHAWAKA, IN 46544
Cuisines: Catering
---
| | | |
| --- | --- | --- |
| Monday | — | 11:00 - 08:30 |
| Tuesday | — | 11:00 - 08:30 |
| Wednesday | — | 11:00 - 08:30 |
| Thursday | — | 11:00 - 08:30 |
| Friday | — | 11:00 - 09:30 |
| Saturday | — | 11:00 - 09:30 |
| Sunday | — | 11:00 - 08:30 |
Delivery pricing may vary from restaurant menu pricing. DineIn prides itself in having the lowest fees in the industry.
We're sorry, but we are not currently taking orders for this restaurant. Please try again later.
CASUAL CATERING
Welcome to an experience of latin food. we differ from a Mexican restaurant and the ubiquitous "chips and salsa". Latin cuisine infuses cultures, flavors and spices from the Caribbean and South America. We draw our inspiration from Cuba, Puerto Rico, Venezuela, Peru, all the way to the southern tip of Argentina.
BUILD YOUR OWN TACO BAR (PER SERVING)


Choose two options: chicken tinga (slow-braised chicken In chipotle sauce with toppings of chihuahua cheese, cotija cheese, pickled onion), cochinita (Yucatan-style slow-roasted pork with toppings of Oaxacan & cotija cheese, pickled onion, cilantro, passionfruit & habanero salsa), carne asada (anticucho marinated NY strip steak with toppings of cilantro, cotija cheese, serrano avocado crema), capechano (Bourbon & Butcher chorizo, crispy pork belly and crispy potatoes with toppings of cotija cheese and fresh herb chimichurri), lamb birria (slow-roasted lam & roasted chili salsa with toppings of cilantro & avocado crema), vegetarian Maria Sabina (sauteed beech mushrooms & roasted corn with toppings of cotija cheese & herb chimichurri).

$16.49
CHAUFA (PER SERVING)


Vegan Peruvian fried rice, add chicken, slow-roasted pork, chorizo NY strip steak or lamb birria for an additional charge.

$14.29
GUACAMOLE & CHIPS (PER SERVING)


House-made guacamole and fresh corn tortilla chips.

$9.89
CATERING BURRITOS
12" flour tortilla stuffed with Incan rice, borracho refried black beans, cabbage slaw, mexican crema & lime, choice of our variety of proteins.
BURRITO BOX LUNCH


Burrito & individual portion of house-made guacamole & fresh corn tortilla chips. 12" flour tortilla stuffed with Incan rice, borracho refried black beans, cabbage slaw, Mexican crema and lime, and your choice of: chicken tinga (slow-braised chicken in chipotle sauce, chihuahua & cotija cheese, pickled onion), cochinita (Yucatan-style slow-roasted pork, Oaxacan & cotija cheese, pickled onion, cilantro, passionfruit & habanera salsa), carne asada (antichucho marinated NY strip steak, cilantro, onion, cotija cheese, serrano-avocado crema), campechano, Bourbon & Butcher chorizo, crispy pork belly, crispy potatoes, fire-grilled pineapple, cotija cheese, herb chimichurri), lamb birria (slow-roasted lam, roasted chili salsa, cilantro, avocado crema), vegetarian (fire-roasted corn, poblanos, Napa cabbage, queso fresco, avocado mousse).

$20.89
CAMPECHANO BURRITO


Bourbon & Butcher chorizo, crispy pork belly, crispy potatoes, fire-grilled pineapple, cotija cheese, herb chimichurri.

$15.99
CARNE ASADA BURRITO


Anticucho marinated New York strip steak, cilantro, onion cotija cheese, serrano-avocado crema.

$15.99
CHICKEN TINGA BURRITO


Slow-braised chicken in chipotle sauce, chihuahua and cotija cheese, pickled onion.

$15.99
COHINITA BURRITO


Yucatan style slow-roasted pork, Oaxacan and cotija cheese, pickled onion, cilantro, passionfruit and habanero sauce.

$15.99
LAMB BIRRIA BURRITO


Slow-roasted lamb, roasted chili salsa, cilantro, avocado crema.

$14.89
VEGETARIAN BURRITO


Fire-roasted corn, poblanos, Napa cabbage, queso fresco, avocado mousse.

$15.99
CATERING SIDES
BORRRACHO REFRIED BEANS (PER SERVING)


Jesus lager refried black beans.

$7.49
ELOTE (PER SERVING)


Mexican-style street corn, served esquites style (off the cob).

$7.69
INCAN RICE (PER SERVING)


Traditional smoky, spicy, sweet.

$6.39
CATERING ENSALADAS
CHOPPED CAESAR (PER SERVING)


Baby Romaine, cotija cheese, Yuca croutons, black mint Caesar dressing.

$7.49
MANZANA (PER SERVING)


Little gem lettuce, watermelon radish, granny Smith apple, cotija cheese, spiced peanuts, avocado, tortilla strips, aji panca vinaigrette.

$7.49
CATERING DESSERTS
BIG COOKIE (PER PIECE)


Choice of chocolate chip pretzel, salted caramel, lemon blueberry or assorted.

$4.49
CAKE IN A CAN (PER CAN)


Choice of Mama Pesek's blueberry sour cream, old fashioned chocolate, birramisu, heaven & hell.

$13.79