< Back

to Restaurants
Capri Italian Restaurant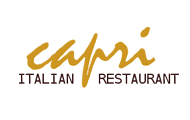 50827 PRINCESS WAY
GRANGER, IN 46530
Cuisines: Italian
---
| | | |
| --- | --- | --- |
| Monday | 11:00 - 01:30 | 04:00 - 09:00 |
| Tuesday | 11:00 - 01:30 | 04:00 - 09:00 |
| Wednesday | 11:00 - 01:30 | 04:00 - 09:00 |
| Thursday | 11:00 - 01:30 | 04:00 - 09:00 |
| Friday | 11:00 - 01:30 | 04:00 - 09:30 |
| Saturday | — | 04:00 - 09:30 |
| Sunday | — | 04:00 - 09:00 |
This restaurant is not available for delivery at your requested delivery time. Please sign in and set your delivery time to a future date/time that the restaurant is available.
The soonest possible delivery time for this restaurant is today at 11:45 AM.
ANTIPASTI
CAPRESE SALAD


Fresh mozzarella, sliced tomato, olive oil and basil.

$14.00
CARCIOFI & GRILLED EGGPLANT


Whole artichokes and grilled eggplant marinated with extra virgin olive oil and garlic.

$14.00
CARPACCIO DI BRESAOLA


Sliced paper thin cured beef with arugula shaved cheese.

$16.00
HOUSE SALAD
$6.00
INSALATA ALLA CESARE


Small Caesar salad.

$6.50
INSALATA DI MARE


Chilled seafood salad tossed in extra virgin olive oil, fresh lemon juice.

$22.00
MELANZANE PARMIGIANA


Eggplant topped with fresh mozzarella and parmesan cheeses with tomato sauce.

$15.00
MOZZARELLA PROSCIUTTO CRUDO


Fresh mozzarella with extra virgin olive oil and prosciutto ham di parma.

$14.50
SALSICCIA SECCA ALLA CALABRESE


Homemade dry salami and aged provolone cheese.

$14.50
SHRIMP COCKTAIL


Chilled shrimp and cocktail sauce.

$15.50
SOUP OF THE DAY
$6.50
STUFFED PEPPER


With chicken, pine nuts, ricotta cheese and raisins.

$14.00
STUFFED PORTOBELLO


With chicken, ricotta cheese and spinach.

$14.00
TUNA SALAD


Mixed greens, arugula, olive oil.

$17.00
ZUPPA


Soup of the day.

$6.50
L'ARTE DEI PRIMI PIATTI
FETTUCINA DEL GOLFO


Fettuccine pasta and shrimp sauteed in extra virgin olive oil, garlic, white wine and tomato sauce.

$25.00
GNOCCHI DI PATATE SORRENTINA


Homemade potato dumplings with fresh tomatoes and mozzarella cheese.

$20.00
LASAGNA


Homemade lasagna with ground beef, mozzarella, parmesan, tomato sauce.

$21.00
PASTA OF THE DAY
$27.00
PENNETTE BOSCAIOLA


Penne pasta sauteed with portabella mushrooms in a light tomato sauce, basil and parmesan.

$25.00
RAVIOLI AURORA


Parma specialty, homemade pasta filled with ricotta and spinach served in a light tomato cream sauce.

$22.00
SPAGHETTI & MEATBALLS


Homemade spaghetti topped with meatballs and tomato sauce.

$21.00
SPAGHETTI BOLOGNESE


Homemade spaghetti with lots of ground veal in special tomato sauce.

$21.00
TAGLIATELLE DEL FATTORE


Fettuccine pasta with diced chicken sauteed in olive oil, garlic, sun dried tomatoes, fresh asparagus and cream sauce.

$23.00
TORTELLONI ALLA PAPALINA


Homemade pasta stuffed with ricotta cheese and served in n Old World sauce with prosciutto and cremini mushrooms in a light cream sauce.

$25.00
DAL MACELLAIO DEL CORSO
Served with complimentary fresh vegetables and potatoes. No substitutions please.
COSTATA DI MAIALE MASANIELLO


Pork loin sauteed with white wine, sun dried tomatoes, mustard, pancetta bacon and a touch of light cream.

$28.00
FILETTO ALPINO


8 oz of tender filet of beef sauteed in red wine, portobella mushroom.

$39.00
FISH OF THE DAY
$35.00
GAMBERONI PORTOFINO


Jumbo Tiger shrimp sauteed in white wine, fresh lemon juice, with a touch of garlic.

$35.00
PETTO DI POLLO VALDOSTANO


Sauteed chicken breast topped with prosciutto ham, fontina cheese in a white wine sauce.

$24.50
PICCATA DI VITELLO AL LIMONE


Veal scaloppina sauteed in white wine, fresh lemon juice and capers.

$27.00
POLLO CON SALSICCIA


Rich in flavor, boneless breast of chicken sauteed in white wine, rosemary, cremini mushrooms and Italian sausage.

$25.50
VEAL PIZZAIOLA


Veal scalloppina sauteed in olive oil, garlic, fresh tomato sauce, white wine and capers.

$28.00
VITELLO ROMAGNOLA


Veal scaloppina sauteed in white wine, topped with mozzarella, sage and cremini mushrooms.

$28.00
DESSERT
CANNOLI SILCILIANI


Pastry shell filled with creamy ricotta cheese and lemon zest. Topping with chocolate chips.

$8.00
CHOCOLATE CAKE


Rich chocolate cake, chocolate icing and whipped cream.

$8.00
LEMON CAKE


Lemon citrus cake with creamy mascarpone cheese and whipped cream.

$8.00
TIRAMISU


Chocolate sponge cake soaked in espresso coffee, Kahlua and creamy mascarpone cheese.

$8.00
ADD-ONS
MEAT OF THE DAY
$45.00
MEATBALLS


approx. 4-6

$12.00