< Back

to Restaurants
Bruno's Pizza (Granger)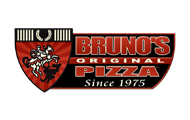 51099 BITTERSWEET ROAD
GRANGER, IN 46530
Cuisines: Italian, Pizza
---
| | | |
| --- | --- | --- |
| Monday | — | — |
| Tuesday | — | 11:00 - 08:30 |
| Wednesday | — | 11:00 - 08:30 |
| Thursday | — | 11:00 - 08:30 |
| Friday | — | 11:00 - 08:30 |
| Saturday | — | 11:00 - 08:30 |
| Sunday | — | 03:00 - 08:30 |
This restaurant is not available for delivery at your requested delivery time. Please sign in and set your delivery time to a future date/time that the restaurant is available.
The soonest possible delivery time for this restaurant is Tuesday at 11:45 AM.
APPETIZERS
BREADSTICKS


6 breadsticks topped with garlic, Romano cheese and oregano. Add dipping sauce for an additional charge.

$6.00
GARLIC BREAD (PLAIN)


8" garlic bread with Romano and oregano. 8 slices.

$5.00
GARLIC BREAD WITH CHEESE


8" garlic bread with Romano and oregano. Topped with mozzarella. 10 slices.

$7.00
GARLIC CHEESE PIZZA
$12.00
ITALIAN NACHOS


Nachos with an Italian twist! Bruno's original Italian sausage recipe, Bruno's blend cheese, Nacho Cheese, Jalapeno, Tomato, Onion, and Banana Peppers piled on top of warm tortilla chips!

$13.00
PEPPERONI STICKS


6 breadsticks stuffed with pepperoni and mozzarella.

$7.00
CREATE YOUR OWN PIZZA
Base price includes cheese. Add toppings for an additional charge.
| | |
| --- | --- |
| PIZZA (12 INCH) | $12.00 |
| PIZZA (14 INCH) | $16.00 |
| PIZZA (16 INCH) | $19.00 |
| PIZZA (20 INCH) | $23.00 |
SPECIALTY PIZZA
BRUNO'S HAWAIIAN PIZZA (12 INCH)


Bacon, ham, onion, pineapple.

$16.00
BRUNO'S HAWAIIAN PIZZA (14 INCH)


Bacon, ham, onion, pineapple.

$22.00
BRUNO'S HAWAIIAN PIZZA (16 INCH)


Bacon, ham, onion, pineapple.

$27.00
BRUNO'S HAWAIIAN PIZZA (20 INCH)


Bacon, ham, onion, pineapple.

$33.00
CHICAGO STYLE STUFFED PIZZA


Toppings and cheese are in the middle surrounded by pizza crust on the top and the bottom. Add up to 6 toppings. Please allow extra prep time.

$23.00
COMBO PIZZA (12 INCH)


Pepperoni, sausage, mushrooms, onions, green peppers, black olives.

$18.00
COMBO PIZZA (14 INCH)


Pepperoni, sausage, mushrooms, onions, green peppers, black olives.

$25.00
COMBO PIZZA (16 INCH)


Pepperoni, sausage, mushrooms, onions, green peppers, black olives.

$31.00
COMBO PIZZA (20 INCH)


Pepperoni, sausage, mushrooms, onions, green peppers, black olives.

$38.00
DOM SPECIAL PIZZA (12 INCH)


Green pepper, onion, mushroom, sausage.

$16.00
DOM SPECIAL PIZZA (14 INCH)


Green pepper, onion, mushroom, sausage.

$22.00
DOM SPECIAL PIZZA (16 INCH)


Green pepper, onion, mushroom, sausage.

$27.00
DOM SPECIAL PIZZA (20 INCH)


Green pepper, onion, mushroom, sausage.

$33.00
MEATZA PIZZA (12 INCH)


Pepperoni, sausage, ham, bacon, ground beef.

$17.00
MEATZA PIZZA (14 INCH)


Pepperoni, sausage, ham, bacon, ground beef.

$22.50
MEATZA PIZZA (16 INCH)


Pepperoni, sausage, ham, bacon, ground beef.

$29.00
MEATZA PIZZA (20 INCH)


Pepperoni, sausage, ham, bacon, ground beef.

$35.50
SCORCHED BUDS PIZZA (12 INCH)


Chicken, roasted red pepper, jalapeno, spicy seasoning, hot honey drizzle.

$16.00
SCORCHED BUDS PIZZA (14 INCH)


Chicken, roasted red pepper, jalapeno, spicy seasoning, hot honey drizzle.

$22.00
SCORCHED BUDS PIZZA (16 INCH)


Chicken, roasted red pepper, jalapeno, spicy seasoning, hot honey drizzle.

$27.00
SCORCHED BUDS PIZZA (20 INCH)


Chicken, roasted red pepper, jalapeno, spicy seasoning, hot honey drizzle.

$33.00
VEGGIE PIZZA (12 INCH)


Tomatoes, green peppers, onions, mushrooms, black olives.

$17.00
VEGGIE PIZZA (14 INCH)


Tomatoes, green peppers, onions, mushrooms, black olives.

$22.50
VEGGIE PIZZA (16 INCH)


Tomatoes, green peppers, onions, mushrooms, black olives.

$29.00
VEGGIE PIZZA (20 INCH)


Tomatoes, green peppers, onions, mushrooms, black olives.

$35.50
SALADS
CATERING GARDEN SALAD (PER PERSON)


10 person minimum.

$3.50
CATERING ITALIAN SALAD (PER PERSON)


10 person minimum.

$4.50
GARDEN SALAD


Green peppers, onions, tomatoes, mozzarella, choice of dressing.

$7.00
ITALIAN COMBO SALAD


Pepperoni, ham, green peppers, onions, tomatoes, mozzarella, choice of dressing.

$8.00
CALZONE, SUBS & MORE
| | |
| --- | --- |
| BAKED MOSTACCIOLI | $7.99 |
| CALZONE | $11.00 |
| CLASSIC SPAGHETTI | $6.99 |
| HAM & CHEESE SUB | $9.99 |
| MEATBALL SUB | $9.99 |
| PHILLY CHEESESTEAK SUB | $9.99 |
SIDES
| | |
| --- | --- |
| CANNOLI (2-PACK) | $6.50 |
| CHEESE SAUCE (SIDE) | $1.50 |
| GARLIC SAUCE (SIDE) | $1.50 |
| PIZZA SAUCE (SIDE) | $1.50 |
| RANCH (SIDE) | $1.50 |